Sodium Hypochlorite(10%-15%)
Sodium hypochlorite (NaOCl) is produced as an aqueous solution by combining chlorine gas (Cl2) and caustic soda (NaOH), both of which are the result of the electrolysis of salt.
Sodium hypochlorite is commonly known as bleach.
KLJ Qatar is one of the largest manufacturer of Hypochlorite in Middle East . One of our key strengths is offering chemicals in multiple package sizes, multiple grades and in a large variety of concentrations. We're here to help you with all your chemical needs.
Synonyms
Bleach, Liquid Chlorine,Hypo
Regional availability
Qatar and other Middle East Region
Jerry Can
Filled in 20L,30 L Jerry Cans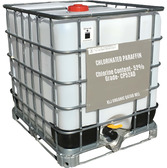 1000 KG IBC
Filled in 1000 KG Intermediate Bulk Contaner(IBC)
ISO Tanker
Filled in ISO Tanks
Need Help With Easier Industrial Solutions? We Are Experts!
Plant Address
KLJ Organic Qatar WLL
NZ #51
PIN:93020008
Medium Industrial Zone
Mesaieed Industrial City(MIC)
Mesaieed, Doha-State of Qatar
Office Address
KLJ Organic Qatar WLL​
Office C-313
Mesaieed New Souq
Mesaieed, Doha-State of Qatar
Email
kljq@kljqatar.com
sales@kljqatar.com​
Tel
+974 4041-9777​
Fax
+974 4041-9700​
Office Business Hours
Sat to Thu – 8AM to 4:30PM
Friday- OFF​